This comes from my childhood. It's an authentic and amazing crisp treat that my Great Grandma, my Grandma and even my mom used to make during Mardi Gras period!
I have memories of these delicious treats since I was a little kid, showing that this recipe is routed in our traditions.
Where I used to live there is no kid or adult that doesn't know them or have eaten them.
They are so good, and fun to eat. They reflect the full spirit of the carnival.
Ingredients and Tools:
1 Egg
1 spoon of Raw Milk
1 spoon of Apple Cider Vinegar
1 spoon of Olive Oil
1 spoon of Grappa or dry White Wine
1 cup of Flour
Oil to Fry (coconut or avocado or peanut)
pasta Cutter
Rolling Pin or Pasta Machine
deep Pan or Wok for frying
A quick distinction first!
Just to be clear so we can understand each other, I'm going to tell you which one is which.
Crostoli has a typical rectangular shape with two cuts in the middle (optional). I personally like the cuts in the middle because it gives to it an interesting shape while frying.
Tortellini are also called Bugie in different areas (to differentiate from the famous pasta). Its peculiarity is that they are filled and closed like a stuffed pasta and then fried. You can choose which ever filling you prefer. Just to give you examples, you could use pastry cream, Nutella, home made jam, or melted chocolate.
How to make Crostoli and Tortellini (Bugie):
Take a bowl to help you mix the ingredients.
Crack and open the egg, and put it in the bowl.
Add the milk, the apple cider vinegar, the wine, the olive oil and mix together with a spoon.
Start to add the flour little by little incorporating it to the mix until you reach a nice and soft consistency.
Let it sit to rest covered for about half an hour.
Now we need to shape the dough for our purpose. If you have a machine it comes easier but you can always use a rolling pin otherwise.
Cut some dough, shape it with your hand in a rectangle and stretch it with the rolling pin or with the machine. It has to be quite and evenly thin, almost transparent. So it reaches the right crispness once fried.
Now to make the Crostoli shape you are going to use the pasta cutter and divide the dough in a half.
Cut the perimeter maintaining a rectangular shape.
Make two cuts in the middle of the rectangles, not all the way through, but leaving a quarter inch (more or less) from the end.
To make Tortellini instead, after stretching the dough we want to cut big squares.
As for a normal stuffed pasta process, cut several squares, ready to be filled and closed.
Choose your favorite filling and fill the squares, keeping in mind that you have to close the dough so don't put too much filling.
Once you have prepared a good number of them is time to fry.
Prepare a deep pan (I used a wok) on the stove and fill it up with the oil that you want to use to fry with.
Use a scrap of the dough to test the oil heat. Once you immerse the dough scrap in to de oil and you see the oil bubbling around it, the oil is ready to fry.
Then you can start frying. I remember that my Great Grandma used to fry one at a time for the perfect result! And I trust her so I'm going to suggest the same for you guys.
Fry each one alone and don't leave the stove. The process of frying Crostoli and Tortellini is quite fast because the dough is very thin which helps to give them their crispness.
Flip them a bunch of time while frying but don't leave them for too long in the oil. They turn brown fast.
Once they are ready put them on a tray(s), previously covered with paper towel to absorb the oil in excess.
Done with all of them? Nice!
Take a strainer and cover them with powdered sugar.
Enjoy!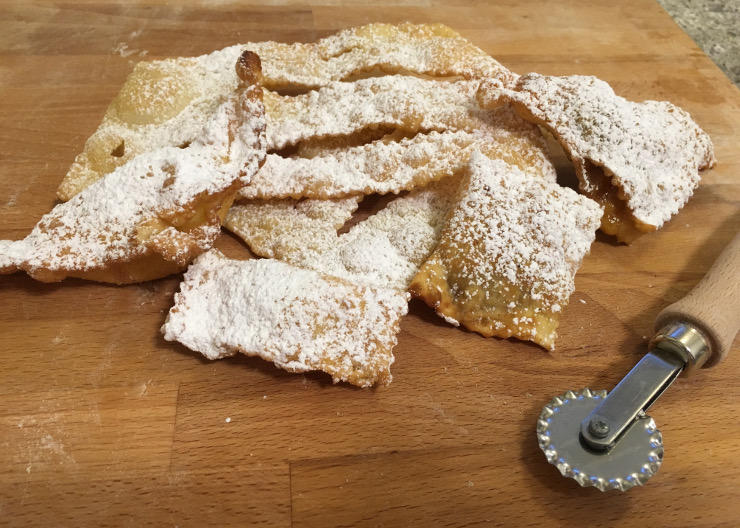 Crostoli e Tortellini di Carnevale (Mardi Grass Sweets
2016-02-18 20:27:52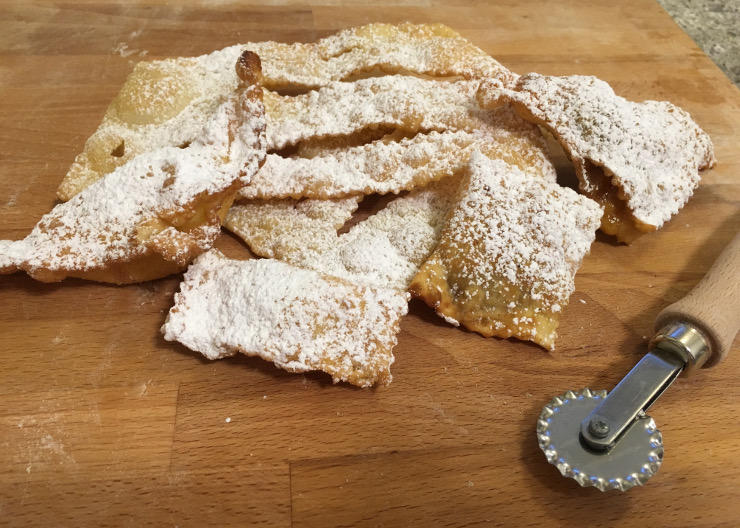 Ingredients
one Egg
one spoon of Raw Milk
one spoon of Apple Cider Vinegar
one spoon of Olive oil
one spoon of Grappa or dry White Wine
one cup of Flour
Oil to Fry (coconut or avocado or peanut)
pasta Cutter
Rolling Pin or Pasta Machine
deep Pan or Wok for frying
Instructions
Take a bowl to help you mix the ingredients.
Crack and open the egg, and put it in the bowl.
Add the milk, the apple cider vinegar, the wine, the olive oil and mix together with a spoon.
Start to add the flour little by little incorporating it to the mix until you reach a nice and soft consistency.
Let it sit to rest covered for about half an hour.
Now we need to shape the dough for our purpose. If you have a machine it comes easier but you can always use a rolling pin otherwise.
Cut some dough, shape it with your hand in a rectangle and stretch it with the rolling pin or with the machine. It has to be quite and evenly thin, almost transparent. So it reaches the right crispness once fried.
Now to make the Crostoli shape you are going to use the pasta cutter and divide the dough in a half.
Cut the perimeter maintaining a rectangular shape.
Make two cuts in the middle of the rectangles, not all the way through, but leaving a quarter inch (more or less) from the end.
To make Tortellini instead, after stretching the dough we want to cut big squares.
As for a normal stuffed pasta process, cut several squares, ready to be filled and closed.
Choose your favorite filling and fill the squares, keeping in mind that you have to close the dough so don't put too much filling.
Once you have prepared a good number of them is time to fry.
Prepare a deep pan (I used a wok) on the stove and fill it up with the oil that you want to use to fry with.
Use a scrap of the dough to test the oil heat. Once you immerse the dough scrap in to de oil and you see the oil bubbling around it, the oil is ready to fry.
Then you can start frying.
Fry each one alone and don't leave the stove. The process of frying Crostoli and Tortellini is quite fast because the dough is very thin which helps to give them their crispness.
Flip them a bunch of time while frying but don't leave them for too long in the oil. They turn brown fast.
Once they are ready put them on a tray(s), previously covered with paper towel to absorb the oil in excess.
Take a strainer and cover them with powdered sugar
The Humble Dish http://thehumbledish.com/